Alternative treatments for deep relaxation and rejuvenation for the body and face.
It is a series of beauty and wellness services for those who want to combine their vacation with some of our programs for relaxation, detoxification and body tone. We accomplish this cause through hot stone massage, acupuncture and herbs. The heat helps muscles to relax and makes skin more absorbent to oil and essential oils,
resulting for the receiver to enjoy all the curative massage features. The Hot Stone Massage is suitable for: poor blood circulation, cold hands and feet, muscle stiffness and pain, anxiety, depression, headache, insomnia, and for people who have reduced immunity.
Massage with hot stones and essential oils
The heat as a remedy has been applied for thousands of years, changing its form as a method. Thus, the Hot Stone Massage evolved in different parts of the world, leading to a diversity of its implementation procedures. The sensation of lava stones which slip through the body with the assistance of oils is very pleasant and soothing.
Herbs
Herbs are nature's pharmacy. There are thousands of kinds of herbs in Greek nature which either individually or in combination with other, stimulate the body, protect, prevent, treat or alleviate a significant number of diseases and disorders. Their cost is meager and their work is often dramatically effective. The drinks offered are: 1. For general toning and wellness. 2. For relaxation from stress, insomnia. 3. For weight control. 4 For control of cholesterol. 5. For depression and melancholy. 6. Heart stimulation.

Acupuncture.
Acupuncture is a substantial part of primary health care in China for over 3000 years. Used extensively in order to restore the universal energy of the body, through the humane penetration of thin needles, which are manipulated manually, at strategic points within the skin. Like all Eastern medical practices, it empasizes to the prevention of the disease and assists to the stimulation of the immune system. Effective acupuncture treatments are: All the musculoskeletal syndromes, release of stress, insomnia, weight / bulimia control, smoking cessation and other addictions, allergies.
GUA-SHA for rejuvenation and tightening the body and face.
It reduces dark under-eye circles, eye bags and puffiness. Irons out fine lines and wrinkles. Moisturizes face. Makes more smooth and shiny skin. Clears clogged pores. Uplifts sagging skin to become firmer. Detoxifies skin thus improving blood circulation.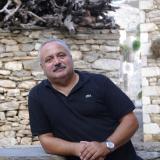 Lemis Ioannis (Owner- Therapist)
I'm from Athens and I studied dentistry and Chinese medicine. A graduate of the Academy of Chinese Medicine, where apart from acupuncture diagnosis, was also taught nutrition and techniques of Hot Stone Massage and Gua Sha. I am the healer of the estate and the person in charge of reservations, reception and generally the proper functioning of hotel operation. I am eager to meet and offer you hospitality, wellness and relaxation ..